MARCH - BEETHOVEN
Tuesday, February 28, 2017 by Claire Eldred | Composer of the Month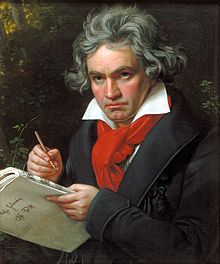 Composer of the month - Ludwig Van Beethoven
Who's already playing Beethoven this month?
Alice Luke - Alice is enjoying Turkish March from her Piano Adventures book
Olivia Brown & Harry Matthews, Julie Knibbs and Georgina Gray - These are all playing a firm favourite 'Ode to Joy' taken from Symphony No.9 in D minor one of his most famous compositions - see below for a little blast!
Ellen Hodges - Ellen in Playing Turkish March :)
Zoe Halls - She's playing Shepherd's Song which is a melody taken from Beethoven's 6th Symphony
What will you pick?
Beethoven Facts:

Born: December 16, 1770
Died: March 26, 1827
Country: Bonn, Germany
Beethoven Trivia:

Beethoven had 2 brothers and a sister.
He had piano lessons from Haydn.
He began to go deaf at the age of 28.
Beethoven never married.
Some 10,000 people attended his funeral - unheard of for a composer to that point in history.
Most famous works: